Did your Apple Watch freeze on the Apple logo? And are you wondering, Why is my Apple Watch stuck on the Apple logo? Don't worry! Here you'll find troubleshooting steps to fix an Apple Watch stuck on the Apple logo.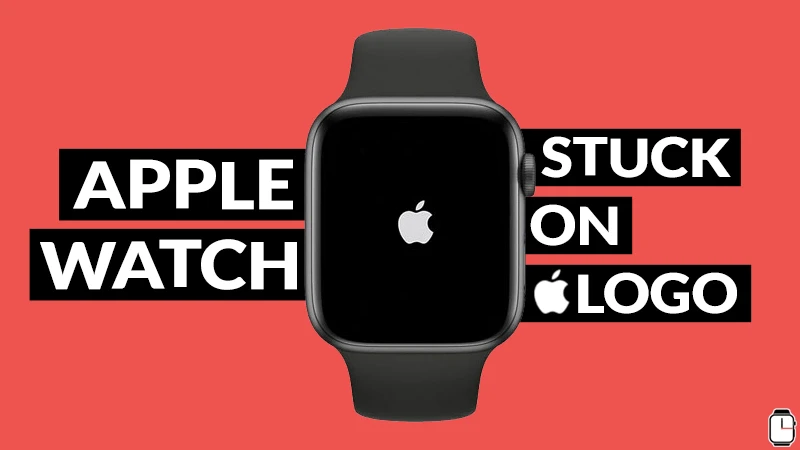 Why Does Apple Watch Stuck at the Apple Logo?
Before exploring the solutions and troubleshooting the Apple Watch, let's consider the possible reasons for an Apple Watch to be stuck at the Apple logo.
Software Reasons
An ill-fated watchOS software update can cause several issues, and it can also lead to Apple Watch frozen on the Apple logo.
Low available storage or clogged-up storage on Apple Watch can also cause several problems.
A random software glitch can also be why the Apple Watch is stuck at the Apple logo.
Hardware Reasons
Dust, broken display, or water damage are some reasons that will lead the Apple Watch only to show the Apple logo.
How to Fix Apple Watch Stuck on Apple Logo?
Follow the below-listed troubleshooting steps one after another until the Apple Watch just shows the Apple logo problem is fixed.
Soft Reboot Apple Watch
If you face any software-related issues on your Apple Watch, the first thing you should follow is to reboot it.
Here's how to reboot an Apple Watch:
Next, drag the Power Off slider.
Wait for the Apple Watch to turn off.
Wait for a minute or two after your watch turns off, and press and hold the side button again until you see the Apple logo.
Note: If your watch is charging, take it off the charger first. You cannot restart the Apple watch while charging.
Force Restart Apple Watch
If your Apple Watch is not responding and you can't enter the Power Off slider menu to perform a soft restart, perform the force restart.
Here's how to force restart Apple Watch:
Press and hold both the side button and Digital Crown for about 10 seconds and then release both buttons when you see the Apple logo.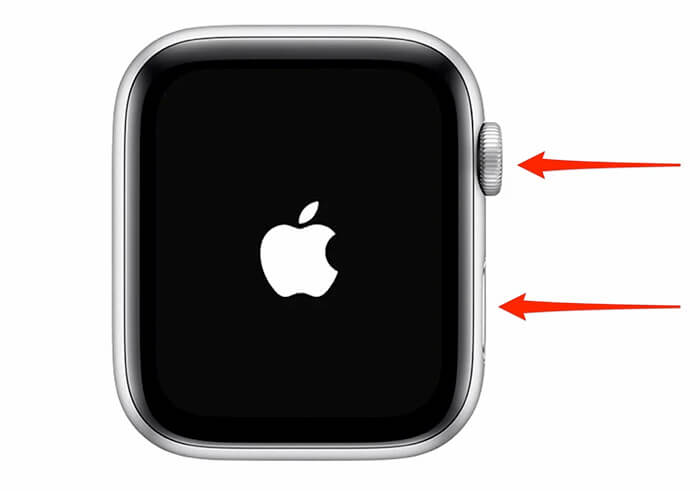 Note: Don't force restart your Apple Watch if you're performing a watchOS software update. After you see the Apple logo and update progress wheel, leave your watch alone and on its charger until the update finishes.
Use Find My Apple Watch to Unfreeze it from Apple Logo Screen
At times, Apple's Find My feature can unfreeze the Apple Watch's screen. Here's how to do it:
Open Watch app on your paired iPhone.
Tap on My Watch.
Tap All Watches from the top-left.
Tap on Find My Apple Watch. Find My app should open; log in to your account if prompted.
Turn Off Screen Curtain Feature
If you use VoiceOver on your device, the screen curtain allows you to turn off the display for added privacy. This feature is helpful if you want to check your bank account in a public place.
Here's how to turn off the screen curtain feature on Apple Watch:
Open Watch app on your iPhone.
Tap on My Watch.
Turn off the Screen Curtain feature.
Unpair and Pair your Apple Watch Again
Open the Apple Watch app on your iPhone.
Go to the My Watch tab and tap on All Watches.
Tap Unpair Apple Watch.
Power off your Apple Watch and power it back on.
Hold your iPhone close to your watch, and the pairing screen should pop up.
Tap on Continue. Alternatively, you can open the Watch app on your iPhone and select Pair New Watch.
Once the devices are paired, you'll see a confirmation message.
Update Apple Watch to the Latest watchOS
Apple tries to fix the known issues and bugs with every new software version release while introducing new features. So if you are repeatedly facing problems with your Apple Watch, try updating it to the latest watchOS version.
Here's how to update Apple Watch using the Watch app on iPhone:
Follow the on-screen instructions to download and install the latest watchOS version to your watch.
Factory Reset Apple Watch
Factory resetting Apple Watch can fix lots of issues, but it can be tedious, and you'll lose all of your data on the device. Once you factory reset your Apple Watch, its data is cleared, and the watch is restored to factory default settings.
Here's how to factory reset Apple Watch:
On your Apple Watch, go to Settings → General.
When prompted, enter your Watch passcode and confirm the action.
Once the Apple Watch is factory reset, set up your Watch as a new device.
Contact Apple Support
If your Apple Watch is still stuck at the Apple logo, it's time to contact Apple support and get your device checked. You may also want to make a Genius Bar reservation or pay a visit to an Apple Authorized Service provider to fix your problem.
Which of the above troubleshooting steps helped you fix Apple Watch Stuck on the Apple logo problem? Do let us know in the comment section below.