Lately, we have heard more about a Smartwatch brand named OshenWatch. We have received messages from people asking to look at OshenWatch. We have done our best to find more information about this brand, and here is what we found out.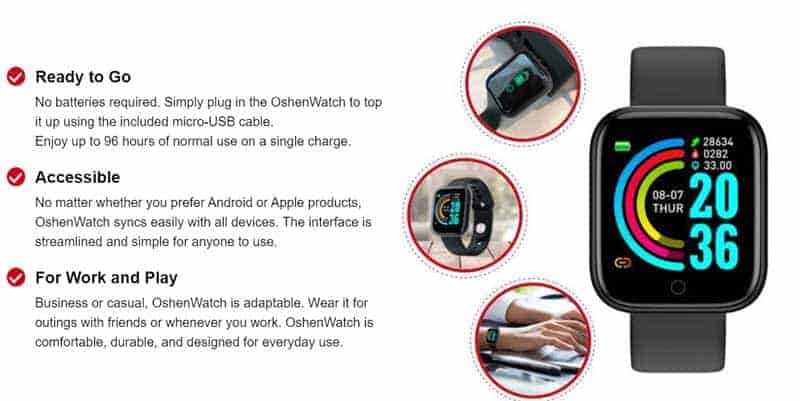 OshenWatch is a new brand, and lately, they have been running huge ad campaigns to attract more people towards their brand and products. It offered two Smartwatches, one with a circular screen and the other one with a rectangular screen. The circular smartwatch was called OshenWatch Luxe smartwatch, and the rectangular one is called the OshenWatch smartwatch.
The circular OshenWatch Luxe smartwatch model is not available on the company's website, and from the assumptions, it looks like it has been removed from their product portfolio. The brand now offers only rectangular smartwatch.
OshenWatch Smartwatch Review
We don't have Oshen Watch on our arsenal, but from what we have seen on the official website and what we heard from other reviewers, we have tried to review OshenWatch Smartwatch.
OshenWatch Smartwatch Design
OshenWatch markets its smartwatch as three in one device – a watch, a phone, and a health monitoring device. Upon looking at the watch's design from the photos, it seems more like Apple Watch with a simple design.
The photos on the brand's website show that the watch doesn't have any button, just a plain body partnered with a soft silicon strap with a sporty design similar to an Apple watch. However, several YouTube videos reviewing the watch show a crown button on the side, similar to the Apple Watch.
The body of the watch is made of aluminum and was designed to be sporty. It is claimed that the Oshen Smartwatch is IP67 rated for waterproof and dustproof. It can survive 30 minutes underwater up to 3 feet. We're not sure about it, so we don't advise you to take your watch for a swim.
OshenWatch Features
Again, we don't have the device to test it personally and list all the features and their accuracy. So, we can't give you a definite review of the Oshen watch features.
The Oshen Smartwatch is advertised as a three-in-one smartwatch. Checking on its health features, the device offers heart rate tracking, sleep monitoring, measuring blood pressure, oxygen saturation, and even ECG. The accuracy of these features is not 100%, but they can be used for reference and should not be the basis of medical diagnosis.
The watch's health data is synchronized with the support app to show graphs and other stats in a format that is easily understandable by an average human.
Sports Feature of OshenWatch
The watch comes with sports features like a step counter, calorie counter, distance counter. It also has a multi-sport mode for running, walking, and other sports functions.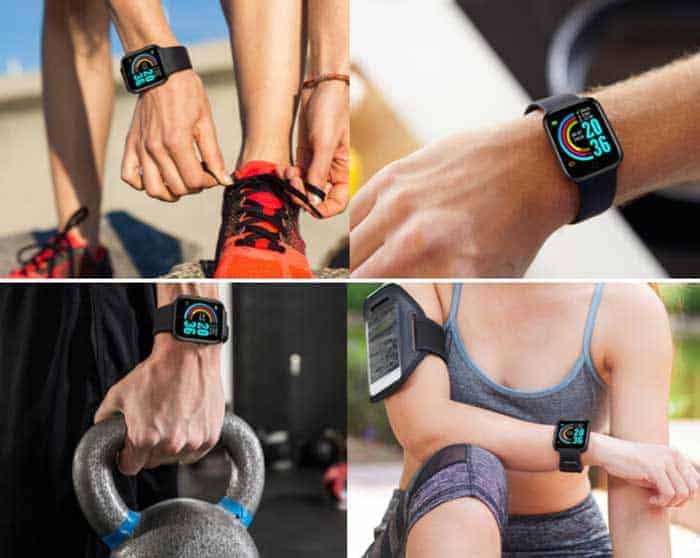 Notifications on your wrist
You can receive real-time notifications from your phone to the Oshen smartwatch. Notifications such as call notifications, SMS, Facebook, Twitter, Instagram, WhatsApp, etc., can be received on the watch.
Additional functions include anti-lost mode, remote control to take photos, etc.
OshenWatch Smartwatch – Full Specifications
Below we summarized the full specifications of the smartwatch.
Dimensions: 36.3 x 12.5 mm
Material: Aluminum
Display: Full-color LCD Display with Touch Screen Operation
Sensors: G-sensor, heart rate monitor, blood pressure monitor
Connectivity: Bluetooth 4.1
Battery: 380 mAh with 3-4 days of battery life
Waterproof Rating: IP67 Waterproof
Compatibility: iOS 8.0 or above; Android 4.4 or above
Is the OshenWatch Legit or Scam?
Is the OshenWatch Scam or Legit? The answer to this question is not absolute. There are mixed reviews from the users who have purchased the smartwatch. The reviews on the official website look like scam reviews, and they seem to be not from the original customers.
Several people who have purchased the OshenWatch have not received the product, and some of the customers who have received the watch reported poor quality and product not as described. You can check out the frustration of the people here and here.
Where is OshenWatch Made?
Based on the information available on the contact page on the official website (https://www.buyoshenwatch.com), it is found that the company name is Thinknix Enterprises Limited and is based out of San Diego, CA (California).
Our Take on this Smartwatch
Here is our take on the new smartwatch from Oshen. The brand is relatively new and not that familiar. At the same time, we can't be sure if the reviews on the site are not biased or even real as all are favorable.
The watch is only available on the official website and not on other well-known stores. The reviews of the watch on other websites are more like paid promotions.
We recommend doing your research before spending your money on this smartwatch.