DZ09 Smartwatch is one of the most popular affordable SIM-enabled Smartwatches. The watch is powered by MediaTek processor, and just like any MediaTek powered Smartphone, the DZ09 watch also comes with secret codes to access the hidden menu and settings. Here on this page, you'll find all DZ09 secret codes.
DZ09 Smartwatch Specs and Features
DZ09 offers a 1.5″ inch TFT LCD display with 240×240 pixels resolution. It is powered by MediaTek MTK6260A processor accompanied by 128 MB RAM and 64 MB ROM.
There are many variants of DZ09 available in the market, which includes Apachie, Padgene, Qiufeng, Doorga, GZDL, Qidoou, 321OU, Wzpiss, Sazooy, Heshi, Aeifond, Minger, and SinoPro, etc.
Among the above various variants, Apachie DZ09 is one of the popular and highly sold Smartwatch.
Other features of DZ09 include Pedometer, Sleep Monitor, Sedentary Reminder, MP3 playback, Bluetooth music playing, Sedentary reminder, Calendar, Calculator, Stop Watch, Sound recording, and Video recording, etc.
The complete specification and features of the DZ09 Smartwatch can be found here.
DZ09 Smartwatch Secret Codes
The complete list of DZ09 Smartwatch secret codes is shared below, and these codes need to be directly typed into DZ09 Dialer or Phone app.
With the help of the below codes, one can launch Play Store on DZ09 called ZM Entertainment or Game Center. Thus these DZ09 codes are useful to access hidden menus, settings, and apps on the DZ09 watch.
Some of the DZ09 secret codes shared below may not work on your Smartwatch, because of the different variants of the watch. It also depends on the manufacturer as they ship with their own version of Nucleus OS.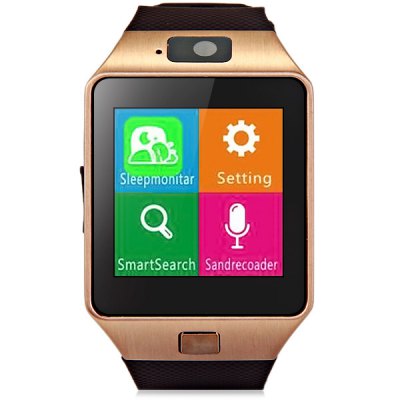 Secret Codes for DZ09 Smartwatch
*#00000000# or *#0*# – ZM Entertainment or Game Center can be launched to download apps and games on DZ09
*#8375# – Shows DZ09 software version and device info
*#06# – Displays IMEI number of your DZ09 watch
*#63342835# – Displays MTK Logo
*#0123# – Launches test mode to calibrate DZ09
*#1234# – Switches A2DP between Normal mode and PTS mode.
*#3646633# – Launches service mode, which includes network settings, device, audio, and GPRS settings, etc.
*#993646633# – Launches service mode, which includes network settings, device, audio, and GPRS settings, etc.
How to use DZ09 Secret Codes?
Open DZ09 Smartwatch Dialer or Phone app.
Type the DZ09 codes from the above list.
Corresponding hidden menu or settings or apps should open. If the entered DZ09 Smartwatch secret code doesn't do anything, then that code is not compatible with your watch.
FAQ
How do you get games on a DZ09 Smartwatch?
Open DZ09 Dialer and type *#00000000# or *#0*# to launch ZM Entertainment or Game center app store. From this DZ09 App Store, you can download games like Thunder Fighter.
How do I add apps to my DZ09 Smartwatch?
To install apps on DZ09, you can download VXP Apps from this link, or you can open ZM Entertainment App Store using DZ09 secret code *#00000000# or *#0*#.
Was this post helpful?
Do let us know in the comment section below.
Also, don't forget to share it with your friends using the below social media buttons.