DZ09 is one of the bestselling and most popular standalone Smartwatch with features like Fitness tracker, SIM support, Bluetooth, and more. It is one of the cheapest Smartwatches in the market. On this page, we have shared steps on how to change the theme on DZ09 Smartwatch to customize its look and feel.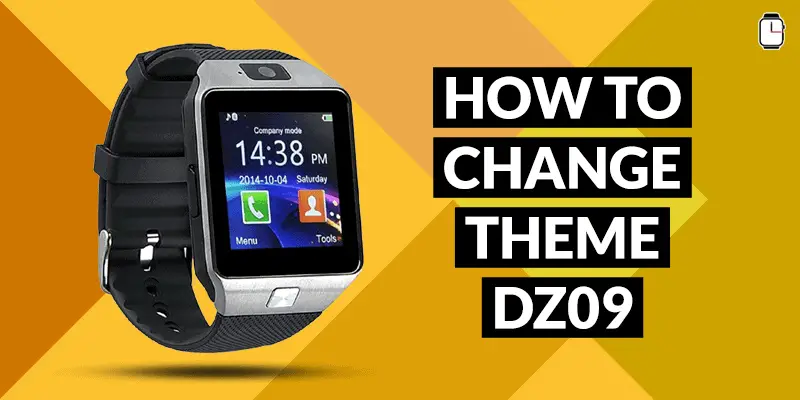 DZ09 Smartwatch Specifications and Features
DZ09 is a 1.5″ inch SIM-enabled Smartwatch. It offers a 240×240 pixel resolution and is powered by a MediaTek MTK6260A processor coupled with 128MB RAM and 64MB ROM.
There are many different variants of DZ09 in the market, and a different version of MediaTek processor powers each variant. Some of the DZ09 variants include Apachie, Padgene, Qiufeng, Doorga, GZDL, Qidoou, 321OU, Wzpiss, Sazooy, Heshi, Aeifond, Minger, and SinoPro, etc.
Coming to the features, DZ09 offers features like Pedometer, Sleep Monitor, Sedentary Reminder, MP3 playback, Bluetooth music playing, Calendar, Calculator, Stop Watch, Sound recording, and Video recording, etc.
The complete specifications and features of the DZ09 Smartwatch can be found below.
How to change Theme on DZ09 Smartwatch Phone
DZ09 comes preloaded with some themes to customize the look and feel of the home screen. Below are the complete steps to switch themes on the DZ09 Smartwatch.
Unfortunately, DZ09 themes are not available for download. So, you have to depend on the inbuilt themes to change the look and feel of the watch. Also, check how to change the wallpaper on DZ09 Smartwatch.
On your DZ09, open App Drawer and go to Settings.
Now choose Common Settings.
Scroll down and tap on Theme Settings.
In Theme Settings, you'll find about 4-5 themes which come pre-installed. It may vary from one DZ09 variant to another.
Tap on any theme to apply it to your watch.
Once applied, press the Home button to have a look at the newly applied theme.
If you didn't like the theme, then follow steps 1 to 4 again and apply another theme.
Note
The steps listed above may differ from one DZ09 variant to another. Some users have also reported that their DZ09 watch is missing the option to change themes. In such a case, you cannot do anything about it and have to continue with the default theme.
This is how you can change the theme on DZ09 Smartwatch.
Was this post helpful?
Do let us know in the comment section below.
Also, don't forget to share it with your friends using the social media buttons below.